A Collection of Shamanic Orgonite 
by Truth-I Melchizedek 
Visionary artist, metaphysician, qigong teacher, and poet Truth-I Melchizedek has forged innovative pathways at the intersection of science and spirituality for over 20 years.  In his new collection of artisan-style shamanic orgonite display pieces, he has integrated forces of Nature and the Elemental world to create beautiful and powerful one-of-a-kind Medicine objects for functional display.  With his knowledge of alchemy, piezoelectricity, stone and plant intelligence, animal spirits, and reverence for the Great Mystery of Life, he is harnessing a lineage of resonance-based Qi modulation technology explored by ancient pharaohs, Taoist masters, shamans from many lineages, Nikola Tesla, Wilhelm Reich, and others.  In this collection, Truth-I illustrates some of Life's most enduring archetypes; birth, incubation, regeneration, transformation, and ascension, contrasting layers of densely packed space with layers of clear and empty space. The pieces in this collection carry talismanic potency and feel as if they are alive, imbued with the wisdom and presence of elemental intelligences from another realm.  
Truth-I creates his orgonite matrices in a plant-based resin with various silicate and carbonate crystal and gemstone formulas, blended into a thick paste of gold and silver leaf. As the resin dries and contracts, it squeezes the silicate crystals, which release a small-voltage piezoelectric charge that is amplified and circulated through the dense medium of conductive stones and metals, as well as modulated by insulative stones or neodymium magnets. In other words, the orgonite matrix is a primitive electromagnetic circuit, that, as Tesla and others describe, has subtle yet strong influence on the flow of energies within a field of multidimensional space and time.  To one with Qi-sensitivity or clairvoyance, the recursive waveform emitted from these Medicine objects is often very tangible. Either alone or gridded in concert with other pieces, the frequencies generated could be described as having a harmonizing, neutralizing, purifying, and/or amplifying effect on its local vicinity. Each piece may interact uniquely with the energies of an altar, a room, a building, the elemental intelligence of a piece of land, the atmosphere, the weather, ley lines, and the earth's grid to varying degrees. Subtle awareness and great care should be given to each object's placement.
Properties of this collection of shamanic orgonite Medicine pieces include grounding, transmuting negative energy patterns, harmonizing dissonant frequencies including EMFs, clearing of stagnancy and unwelcome entities, inducing of meditative states, lucid dreaming, communication with ancestors/guides/higher realms, creative inspiration, manifestation of visions, embodying the timeless, empowering psychic and clairvoyant abilities, and more…
Each piece may also have many more specific properties related to the Medicine of its stone formula, animal or plant spirit used, elemental influence, and/or archetypal symbolism...
Serious Inquiries Only Please.
Listed Pricing is Considered a Suggested Donation, Make an Offer!
Commissions Available. 
truthimanifest@gmail.com
Grandfather/Grandmother Brooch
$333
Cockleshell, resin, quartz, aquamarine with black tourmaline, green fluorite, yellow naped amazon parrot feather, gold, silver, neodymium magnet. Length is 5.5 inches.
*************************************************************************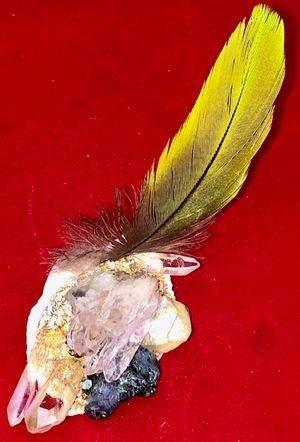 Wearable as a brooch upon a hat, lapel, dress, shirt, or placed on a refrigerator, file cabinet, door frame, desk, or other magnetic surface, this smaller piece wields a pair of rare crystal clusters: clear quartz from Grandfather Mountain, NC and a terminated aquamarine with black tourmaline from Namibia.  As the deep blue surface of the aqua evokes Grandmother Ocean, the profound Yemaja archetype of the Primal Mother, a contrast is drawn from the quartz rays of the clear Light of Grandfather Sun. This brooch encodes the ancient love story between Light and Water that lives in the depths of our own DNA and illumined liquidity.  We are our Ancestor's prayers. The fluorite in octohedral configuration echoes back to us our own Eight Directions, the 4 cardinal directions of our compass plus up (Cosmos), down (Earth), within (Source), and without (Creation), encouraging our ability to fully inhabit our own multidimensional self. The additional quartz points reflect possibility vectors that emanate into a Family Tree and the many lineages given life by the flow of light and electricity into waves of water.  Finally, the presence of the yelllow-naped Amazon parrot feather symbolizes the light hearted wisdom carried by Elders who have lived a long and thriving life, embodying resourcefulness, learning, and improvisation to meet life's challenges. This brooch is a constant cord to the grateful perspectives we all wish to hold in the evening of our human life, perhaps sitting quietly to the musical sound of children laughing as a brilliant sunset sinks into the Sea.
**************************************************************************************
The versatility and portability of this piece (with care!) corresponds to its many layers of meaning and symbolism as it connects to those who have come before and helps us to understand how we will influence those who come after us, generation by generation.  An eye catcher if used to adorn one's headwear or dress, or if set in a visible location, it allows for an easeful entry into meaningful conversation. A veritable antenna for guidance from the Ancestral realm, it can help inform us from the wise one we carry within us as we navigate our daily lives.
Flame of Clarity
$1777
Glass, quartz, shungite, almandine garnets, pyrope garnets, black tourmaline, turquoise, peacock feathers, curly goose feather, ostrich feathers, rooster feathers, gold, silver, neodymium magnet. Height is 13.5 inches.
**************************************************************************************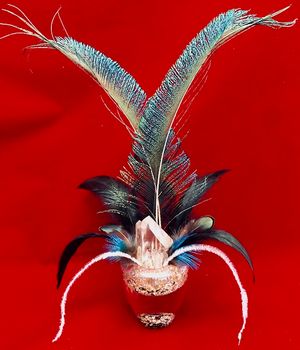 This glass candlestick holds an invisible perpetual tension... a magnetic field between the upper and lower chambers, each orgonite matrix attracting the other as the present attracts the future.  The lower chamber- packed with a neodymium magnet at the top, shungite, black tourmaline,rhodochrosite, and almandine garnets harvested near Thoreau's cabin at Walden- roots the field and pulls downward from the center of the piece.  The upper chamber- packed with a neodymium magnet at the bottom, turquoise, pyrope garnets, black tourmaline, a large Arkansas quartz point, and eleven small quartz points- pulls upward from the center of the piece. The quartz points then direct up and out, demonstrated by the fountain effect of the feathers.  In contemplating the clear emptiness in the middle of the piece, which is also the zero point between the two magnetic fields, one is asked to find that point within as the still source of all movement. As one observes how the energy moves up and out from this centerpoint, one is asked to see how stillness gives us poignant and powerful guidance that helps us to burn brightly in the world.  As the tallest feathers' iridescence catches Light, one sees a mirror of how self-expression adds to the joy in the world as fireworks in the night sky. May our still centerpoint be the fuel that feeds our Glow…
********************************************************************************
This piece is a call to Presence.  As an altar or tabletop piece, it attracts the gaze and demonstrates the above and below, full and empty, seen and unseen forces that are always at play, coming to fruition as a shimmer of Light.  Similarly, the Love that arises from our consciousness, like a flame that burns from unknown source, shimmers through our being when we dwell fully in the present moment, liberated from the past and surrendered in Trust of our future.
Dragon Embryo in Egg Case
$4444
Wood, petrified wood, shungite, black tourmaline, quartz, kyanite, amethyst, fire opal, turquoise, labradorite, micah, coal, clamshell, moldavite, malachite, cicada wing, cardinal feather, peacock feathers, gold, silver, copper, neodymium magnet.  Diameter is 7 inches, height is 9 inches.
************************************************************

It is said that the parents of this Dragon are Solar Lightning and Earthly Magma...
Within a wooden eggshell, deep inside its watery amniotic medium, at the base of a petrified treebranch where new iridescent growth emerges, curled around its umbilical amythyst and clamshell yolk sac, this young kyanite dragon's lifeforce pulses as its body begins to take form and grow. It dreams of its coming life through moldavite eyes as it sleeps, wings folded, atop an orgonite bed of shungite, black tourmaline, quartz crystal, and coal, seamlessly interwoven with strands of 24K gold, sterling silver leaf, and punctuated with copper beads and neodymium magnets.  This species of dragon is nourished in embryo by a clamshell yolk sac; anchored at its base by a pair of polarized umbilical amethyst clusters that pump primal currents into the growing dragon's crystalline body. The bottom clamshell layer hosts its own orgonite formula of malachite, kyanite, and amethyst, with fire opal, labradorite, turquoise, and black tourmaline emerging to absorb and dance with the Light. The smaller top clamshell contains a grounding slab of Appalachian micah- the same mineral used beneath ancient Mayan pyramids and modern supercomputers- upon which sits a blossom of quartz obelisks surrounding a shungite pyramid.  
No dragons were harmed in collecting this potent specimen.
********************************************************
This piece intends to reflect back to an observer the core of one's own fierce primal self, and the forces used to birth, grow, evolve, transform, and rebirth over time.  Its field pulses a ceaseless rhythm of creative currents, bringing ideas from formative to manifested states. It carries a deep grounding connection to Earth as well as an ethereal invitation to Cosmic realms to intermingle for maximum Yin/Yang polarity magick.  It can be placed in a space alone or gridded with other medicine objects, held in the hands during meditation, or laid on or near the body for powerful energy work.